VITALITY ADVENTURE YOGA RETREAT
This is my 7th yoga retreat offering at The Farm of Life, and it has been described as a life changing retreat. It is hard to describe the beauty, magic and transformation that takes place at the Farm of Life, you just have to experience it! Vitality (or 'Ojas' in Sanskrit), refers to our deepest strength – our ability to live and thrive. This very unique yoga adventure retreat offers much more than a vacation – the 9 days helps to open your heart, tap into your inner power and bring you new energy and vitality.  This is an opportunity to do transformational work and invest in your health and wellness while basking in the beauty of Costa Rica's nature. Find more joy, more spontaneity and the will to ENLIVEN! The retreat is a balance between self healing and adventure. Between reiki sessions, massage therapy, yoga, meditation and nourishing food there's tropical jungle hikes, waterfall swimming, beach trips, surfing, flying trapeze, horseback riding and so much more! Escape the winter blues by both flourishing and rejuvenating with us on our Vitality Adventure Yoga Retreat. Give yourself the gift of rejuvenation!!
---
When:Jan. 25th-Feb. 2nd 2017
Where: Farm of Life, Costa Rica in the Southwest Costal Region, near the Pacific Ocean and halfway between Dominical and San Isidro.
---
All Inclusive:
Accommodations 8 nights at Finca de Vida
Round Trip San Jose Transfer: Bus leaving Aeroport Hotel in SJ at 8 a.m Jan. 25th, bus leaving Farm of Life Feb. 2nd 10a.m
Vegetarian Meals: Raw/Ayurvedic-Gluten Free
Breakfast, Lunch, Dinner … Click HERE for a sample menu
1 Reiki per Guest with reiki master Brian Calvi. Brian moves light and energy through you, while you simply relax, breath, let go and allow the energy points to release.  Energetic blocks will be cleared, leaving you energetically clear and open.
Farm Tour with Health Education Integrated(Prana Tour)
 Sound Therapy sessions: uses the Gong and Tibetan Signing Bowls to invoke a deep state of relaxation. Meditating on the subtle sounds and vibrations of the bowls opens and harmonizes the chakras, while the Gong vibrates across the spectrum of creation, Om. Sound therapy sessions assists in entering into meditation, has a centering effect and synchronizes left/right brain.
Mid Week Laundry Service
1 Raw Food Demonstration from Farm's Chef
Farm Art Project
Awakening the Senses Workshop
Authentic Cacao Ceremony with Ecstatic Dance. Cacao is a food of the Gods!  Our wise Aztec and Mayan ancestors knew of the sacred medicinal properties of Cacao and they consumed it abundantly in their royal courts and for ceremony. We create a uniquely profound ceremonial experience for you by bringing together the cacao medicine with divinely-inspired purification rituals, meditation, healing touch, and Ecstatic Dance to assist in opening the heart and spirit.
Daily Yoga with Andrea Robertson. Style of classes include:Vinyasa flow, Hatha, Yin, Restorative, Meditation
Qigong session with Jody Calvi. Qigong class emphasizes self-healing, chi (energy) cultivation, joint mobility, inner alchemy, gentle circular movements and meditative breathing. It balances Yin-Yang and the 5 Elements, detoxifies the skin, brain, and internal organs, nourishes the joints, optimizes immunity, rejuvenates and increases vitality.
Introduction guided Sunrise sun-gazing with Brian Calvi. Sungazing is an ancient Egyptian and Mayan practice where the gazer cycles earth and solar energies and receives innumerable healing benefits.
Use of amenities at Farm of Life including Vitality Cool pools, Chemical free Infinite Pool, Jungle gym & Walking trail hikes, Morning and Evening Sungazing Vortex, Wifi
Vapassana, also known as silence meditation. We will be having a day to retreat in solitude honouring a day in silence, an opportunity to be present with yourself! Silence will be begin before yoga and break at dinner.
Tours with Transfer(Included)
Hike to Nauyaca Falls, rated one of the top 10 Best Waterfalls in the World!
Hike to Big Rock and waterfalls
Beach Days to 3 different stunning beaches! Optional Surfing on beach days(additional cost for surfing)
Diamente Waterfall and Hike + Overnight in Caves with Lunch, Dinner and Breakfast
Trip to The Alturas Wildlife Sanctuary
THE FOOD….OH THE FOOD!!!!
The retreat menu will delight and awaken your taste buds from breakfast to dinner. Exotic tropical fruit, fresh greens and herbs from the green house and local produce will be the highlight of our meals. Farm of Life Chefs will prepare healthy, delicious and all natural meals, served buffet style, featuring a blend of raw, ayurvedic and cooked vegetarian cuisine. All meals are free of gluten and dairy; eggs will be served some mornings. Enjoy tropical fruit, fresh coconuts, natural spring water and medicinal teas throughout the day! Smoothies, Coconut water and coffee will be served in the mornings before Yoga….smiles there's coffee 🙂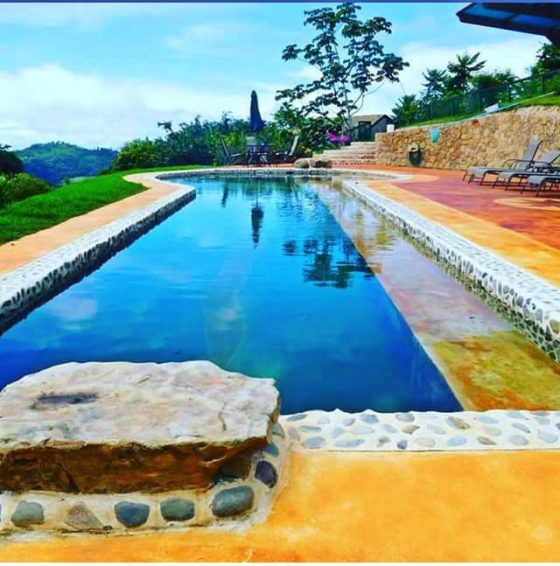 One of Farm of Life's amazing features: Chemical Free Infinity Pool
OVERNIGHT IN A CAVE BEHIND DIAMANTE FALLS
Trek 1.5-2 hours up winding trails amongst the pristine cloud forest and rainforest overlooking spectacular pacific coastal views to this incredible jewel of the jungle, "Diamante Verde" (Green Diamond), where surrounded by 1,200 feet of cascading waterfalls, you will find the "Casa de Piedra" (House of Stone) or as the locals call it "The Cave". Once inhabited by indigenous people, this amazing open air cavern is set behind twin 85-foot waterfalls and features a full size kitchen and comfortable sleeping quarters. Activities while at the cave include hiking to crystal swimming pools, cliff jumping, and exploring nearby trails! Invigorate your sense of adventure. This is a nature tour with some of our favourite guides who are experts at the local plants, medicinal, culinary and poisonous.
HIKING TO NAUYACA FALLS
Costa Rica has plenty of stunning waterfalls but probably the most spectacular are the Nauyaca.  Set in the tropical rainforest, with two sets of falls measuring a combined 61 meters (200 feet) tall and a large natural pool for swimming, Nauyaca is the ideal place, not only for those in search of tranquility and nature, but also for adventure and excitement lovers.
Toucan & Macaw (2 sets of Bunk Beds, sleeps 4 people, Balcony, Private Bathroom)
Sharing 2 people $1,899.99 USD each
Sharing 3 people $1,799.99 USD each
Sharing 4 people $1,749.99 USD each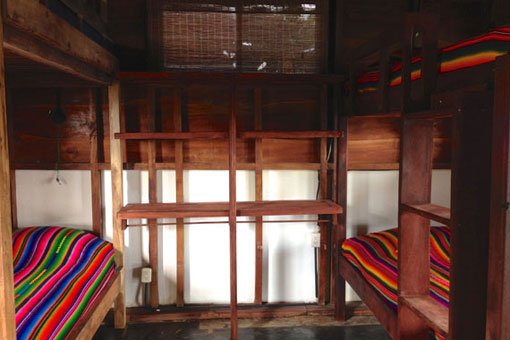 Monkey House & Coconut House (2 Queen Beds in each House, Private Balcony, Private Bathroom and Private Outdoor Shower) COCONUT HOUSE SOLD OUT!!
Private $2,699.99 USD
Semi Private (2 people) $2,399.99 USD each
Semi Private (3 people) $2,099.99 USD each
Semi Private (4 people) $1,999.99 USD each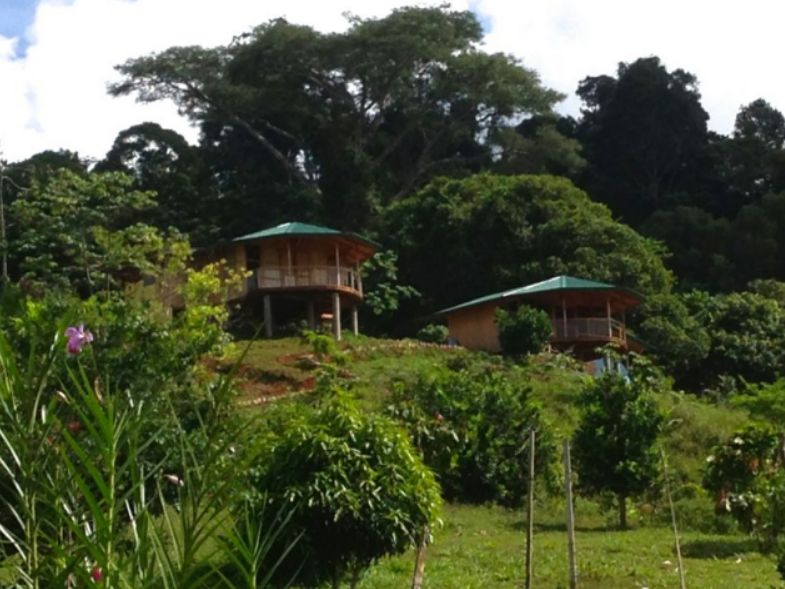 Cabins in the Orchard
Private $2,399.99 USD
Semi Private (Couple sharing bed or 2 friends in twin beds) $1,999.99 USD each
SOLD OUT!!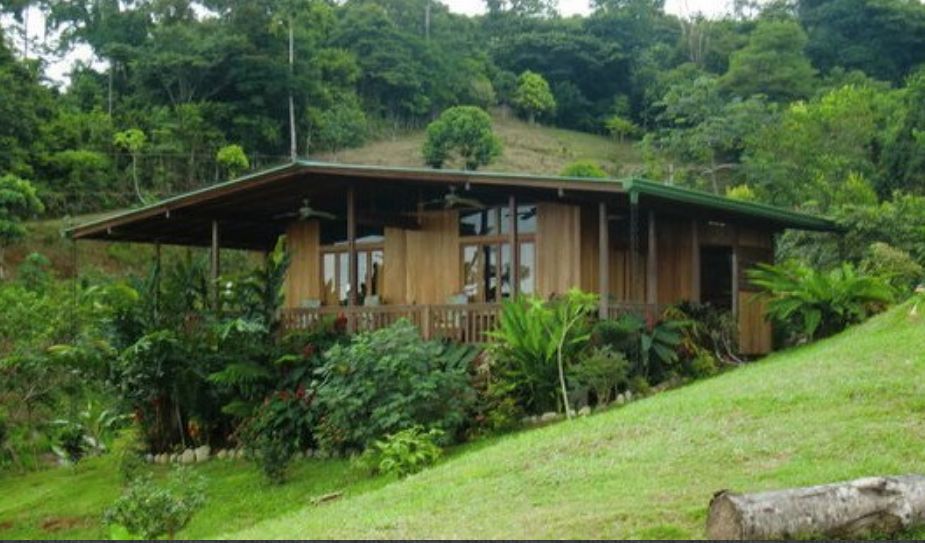 Butterfly Suite (Queen Bed, Balcony, Private Bathroom) SOLD OUT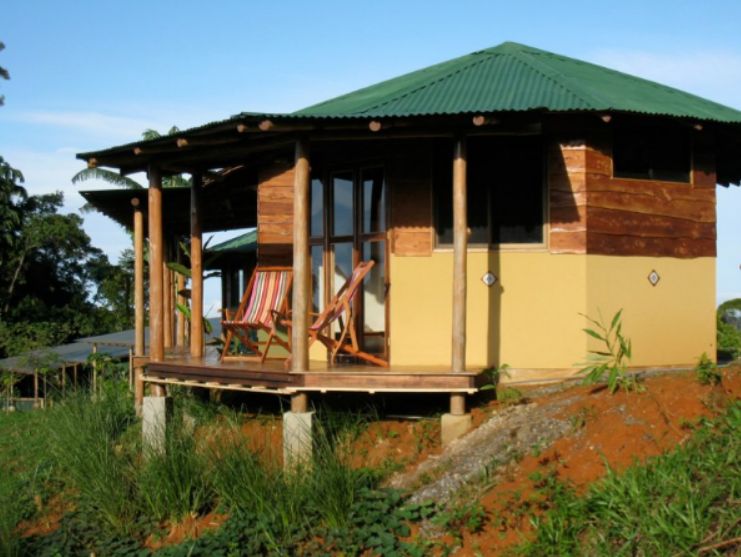 Additional Expenses:
Return Flights to San Jose. Arrive in San Jose by

Jan. 24th

, transportation to retreat leaves at

8 a.m

Jan. 25th

. Book flights home from SJ Feb.3rd, retreat ends Feb.2nd, transfer back to SJ by

5p.m.

(Flight Cost range from $700-$950 CAN dollars, book with Sky Scanner or Expedia for best flight deals) + Travel/Medical Insurance
Lunch at Restaurant ($25 US)
Optional HorseBack $60 US
Massages ($70 US for 75 minutes ) Topher is our massage therapist offers a polarity-balancing, trigger-point massage that is divine!
Surf Lessons + Surf Board Rentals ($60 US) on Dominical Beach
Flying Trapeze $65 (in my opinion an absolute must!)
Staff Gratuity
Gift Purchases
Surfing Dominical
Costa Rica surf is some of the best in the world. Join us in heart of the Costa Rican rainforest along the shores of Costa Rica's Pacific Coast in Dominical – where the mountains meet the sea. Whether it's the first time you're dipping your big toe in the ocean or you've been surfing for years, you will walk away an improved and more complete surfer.
Imagine flying out on a flying trapeze overlooking a magnificent waterfall. Come experience a totally new kind of adventure with us.  Our flying trapeze sessions offer you – yes I'm talking to you –  an incredible thrill, a meaningful bonding experience, and a chance to discover that you are capable of so much more than you imagined. Participants are secured in safety harnesses at all times. Our coaches are trained and overseen by Jonathon Conant, founder of Trapeze School New York. TSNY is the industry's pioneer and international leader in the field.

  
SUGGESTED ACCOMMODATION AND PICK UP/DROP OFF LOCATION IN SAN JOSE:
http://www.airporthotelcostarica.com/
Price Rates(Neta Rate): Includes Airport Transfers and Breakfast Buffet
Single $68
Double $80
Triple $92
Quad $104.
Registration/Payment Instructions:
Complete our REGISTRATION FORM

Payment methods:

Check or money transfer payments (a $2 fee for money transfers will apply) … contact Andrea to make arrangements; or
Payments via PayPal

Chose the cabin you want to stay in
Select the payment type (Full Payment, Deposit or Balance Owing)
Select the Type of Room (Shared, Private or semi-Private) from the applicable drop box below
Click on the Buy Now button and follow the PayPal instructions
NOTES:
PayPal fees (2.9%+$.60) are included in the PayPal prices.
Prices listed are per person. If paying for more than one person please change the quantity on the PayPal page.
Deposit is non-refundable.